While rescue teams have suspended the search because of darkness on Saturday night, Mohammed Aboud, the Minister for Emergency Situations of Zanzibar, a semi-autonomous region of the Republic of Tanzania, revealed the preliminary death toll of one of the worst shipwreck in the past ten years: at least 190 dead.
At least 193 people died in the sinking of overloaded MV Spice Islander ferry carrying over 800 people between two touristic islands of Zanzibar archipelago in Indian Ocean on Friday night. MV Spice Islander capsized and sank 3 hours after departing from Zanzibar's Unguja island bound for Pemba island.
Rescue teams suspended the search because of darkness Saturday night. Tanzania's Minister for Emergency Situations Aboud Mohammed announced that the incident in one of the worst in the history of Africa.
"The new (still) provisional number of deaths raised to 193 and makes this accident one of the worst shipwreck in Africa over the past decade."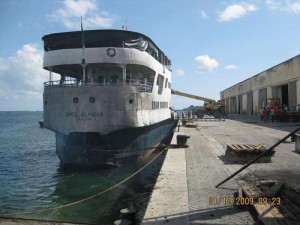 Spice Islander ferry pictured in 2009. The ship capsided and sank Friday night killing hundreds. 
"It's a great tragedy for the people of Zanzibar and the Tanzanian in general," said President of Tanzania, Jakaya Kikwete. The president announced three days of national mourning starting as of Sunday.
According to Aboud, the rescue teams managed to rescue 612 people Saturday.
These figures show that the ferry was carrying more people than originally predicted by Zanzibar authorities who initially announced on Saturday that about 600 passengers were on board a ferry connecting Unguja and Pemba, the two main islands of the archipelago.
The exact number of persons on board such vessels is often difficult to ascertain in the absence of a reliable system of registration of passengers.
"O Allah, forgive  forgive them and make  themamong the guided ones, raise there status and be there deputy among the grieving. O Lord of the two worlds, forgive us and them and make there graves wide and full of light" Ameen!!