When    March 18, 2023              Time 1:00 pm to 6:00 pm
Where    Place at 256 Eddy stone avenue
————————————————————————————————
In the name of Almighty ALLAH, The most beneficent, The most merciful
APPEAL FOR DONATION
The Zancana Community Center is a registered charity non-for profit organization
One of our objectives include, engaging our youths and adults in education and islamic studies (Dawah). Currently, we are running  Madras (Quran studies) for our youth, which is located on the  western side of Toronto.
Name of the Maddrassa:  ABU UBAIDAH ISLAMIC CENTER (AUIC)
The demand is for our children and your children to have Islamic EDUCATION.
To make this noble path succesful, Madras Committee is asking for your generous financial support .
Those who (in charity) spend of their goods by night and by day, in secret and in public,
have their reward with their Lord: on them shall be no fear, nor shall they grieve."
(Al-Quran, 2:274)
Almighty Allah says in the Holy Quran:
"The Likeness of those who spend their wealth in the Way of Allah is as the likeness of a grain of corn: It grows seven ears, and each ear has a hundred grains. And Allah gives manifold increase to whomever He wants and Allah cares for all snd He knows all ( Albakarah 2-261)
Our beloved Prophet Muhammad (pbuh) said:
"Seek knowledge from the cradle to the grave", (Hadith)."
AIM IS TO HAVE A CENTER WHICH CAN ACCOMMODATE PRAYER HALL,  CHILDCARE  AND OTHER THINGS WHICH CATER OUR NEED IN ISLAMIC PATH
Fund raising project
Fundraising account: 05882-003-1008218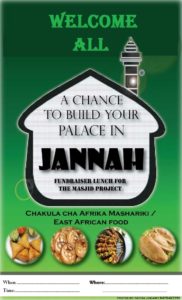 Royal Bank of Canada
Keele & Sheppard Branch
336 Keele st
North York ON
M3J 1L5
You can find donation form and pledge form
The fundraising will be every last Saturday of the month.
Place at 256 Eddy stone avenue
North York ON
M3N 1H7
UNLESS SPECIFIED
Provided by CoolFundraisingIdeas.net