Notice is hereby given to all board members and all committed members that the meeting of the 10th Annual General Meeting of the Zancana Community Center is scheduled on September 3, 2023, at 11:00 a.m. to 5:00 p.m. at the Abu Ubaydah Islamic Center The Organization  invites the board of directors, stakeholders, and board managers to discuss organizational policy and leadership.
Agenda
To approve meeting minutes from the last assembly.
To revise bylaws and policies.
To approve new Abu Ubaydah Islamic Center Policy
To revise the rules and regulations of the Madrassa
To vote upon new organization procedures.
To elect a new board of directors.
To revise the organization's budget.
Thank you for your time and hard work. Please arrive at the meeting on September 23, 10 minutes before the assembly begins.
The House of Allah (SWT),
The masjid is an integral part of every Muslims life, it is here where we worship, reflect, repent & come together in situations of both joy & sorrow. It is a place to seek solace & find real inner peace. The houses of Allah (swt) are the heart of every Muslim community small or large, as hubs they provide essential services of education, prayer & guidance throughout one's lifetime.
Often, we take their immeasurable contribution to society for granted. It is in such places where both adults & children learn religious manners, absorb the teachings of Islam & also gain the tools necessary in order to adapt & rehabilitate into society.
Please spread the word to family and friends.
Please donate generously.
Death of a colossus: Maalim Seif Sharif Hamad — giant who taught Zanzibar, Tanzania and the region the meaning of forgiveness and national cohesion.
 This is part of document written by Khaleed Said Suleiman. Tel: +1 416 700 1332 Email: Khaleed_ihaab@yahoo.com Thursday, February 18th, 2021.
I was deeply saddened to hear the death of Maalim Seif Shariff Hamad who was a stable force and a towering figure in our time; a legend in life and now in death – a true Zanzibar hero. I offer deepest condolences and sympathy to Maalim Seif's family and to my fellow Zanzibaris. His steadfast leadership embodied his sincerity, generosity, grace, tolerance, and deep love for Zanzibar.
Words fall short of articulating a eulogy for Maalim Seif Shariff Hamad as great as him or describe his good deeds and accomplishments. Maalim Seif will be missed not only by the people of Zanzibar but also by his friends and admirers the world over. He was a true friend of everyone, renowned for his wisdom, compassion, and vision. He worked selflessly to fight and develop Zanzibar and promote peace in the isles.
Maalim Seif was a charismatic leader who promised his people and country to break Zanzibar's long political impasse, and usher in a new era of stability and prosperity for all. He is one of those rare leaders who unselfishly dedicated his life for his people.
What is important now is the stability of the country and for the politics of compromise to continue with the vision Maalim Seif aspired to achieve throughout his life and left Zanzibar in a good place before he was called by his Maker.
Maalim Seif occupied that office from 2010 to 2015 and again following the 2020 elections until his death. Pursuant to the Constitution of Zanzibar, upon the death of the First Vice President, his political party would put forward name(s) for the President to be picked as the new First Vice President. Both his party ACT Wazalendo as well as President Mwinyi will have to be careful in determining the most suitable replacement for Maalim Seif. This is not the time for political expediency or political opportunism; it is the time to pick the most qualified person to step into Maalim's big shoes and to lead Zanzibar into prosperity after 57 years of stagnation.
Maalim Seif Shariff Hamad will truly be missed. We had a lot of respect for him. Let us take comfort in knowing that his powerful legacy will live on and excel in the position of the next First Vice President .
May Allah for give him and grant him Jannat firdous— Aamiin.
Maalim Seif azikwa Pemba
Aliyekuwa Makamu wa Kwanza wa Rais wa Zanzibar, Maalim Seif Sharif Hamad aliyefariki jana amezikwa leo kijijini kwao Nyali Mtambwe Mkoa wa Kaskazini Pemba.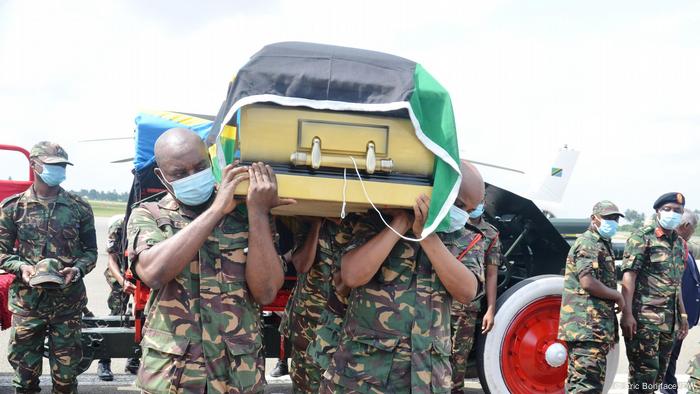 Maelfu ya wananchi wamefika kuuaga mwili wake katika uwanja wa Mnazi Mmoja, Unguja na kisha uwanja wa Gombani kisiwani Pemba.
Majira ya saa 8 mchana ndege ilitua katika uwanja wa ndege wa Pemba huku wafuasi na viongozi kadhaa wa serikali wakionesha majonzi wakati wakiupokea mwili huo ambao haukugusha na yeyote isipokuwa wanajeshi pekee waliopewa jukumu la kuuteremsha na kuufikisha katika gari maalumu lililotayarishwa kwa ajili ya kuubeba mwili huo na kutembea nao polepole.
Maelfu ya wananchi wajitokeza
Maelfu ya wananchi walisimama njiani huku nyuso zao zikionyesha majonzi makubwa na baadhi yao kuangusha vilio walipoliona gari lilipopakia jeneza la Maalim Seif huku wengine wakiinamisha vichwa nyao na kuvitikisa kwa ishara ya maumivu makali.
Kabla ya kuelekea Zanzibar, mwili wa Maalim Seif ulipelekwa katika Msikiti wa Maamur jijini Dar es Salaam kwa ajili ya swala ya kuuaga. Viongozi mbalimbali walihudhuria kiwemo Rais wa Awamu ya Nne wa Jamhuri ya Muungano wa Tanzania, Jakaya Mrisho Kikwete.
Rais mstaafu wa Tanzania, Jakaya Kikwete akiwa katika msikiti wa Maamur jijini Dar es Salaam
Watu mbalimbali walitoa maoni yao wakiwemo waliofanya naye kazi kwa muda mrefu katika siasa akiwemo Hamad Rashid aliyeunda chama chake cha ADC baadae na Mussa Haji Kombo ambaye alitofautiana mawazo na Maalim Seif kwa kubaki katika chama cha Wananchi CUF wakati wa migogoro ya kisiasa, lakini bado wanamuona Maalim Seif ni mfano wa kuigwa.
Miongoni mwa wanasiasa waliomzungumzia Maalim Seif ni aliyekuwa Naibu Katibu Mkuu wa CCM Zanzibar, Vuai Ali Vuai na Salim Mwalimu kutoka Chadema. https://imasdk.googleapis.com/js/core/bridge3.443.0_sw.html#goog_791797715Volume 90% Tazama vidio01:06
Mwili wa Maalim Seif Hamad wafika Zanzibar kwa mazishi
Baadhi ya wananchi walibeba mabango yalioandikwa ujumbe wa aina mbalimbali ukiwemo unaosema "Ahsante Maalim Seif kwa kutimiza ndoto yako, Ahsante Maalim Seif kwa kutuunganisha wanzanzibari, Mwenyezi Mungu akulipe pepo iliyotukuka".
Safari yake ya maisha ya miaka 77 ulimwenguni iliyokumbwa na misukosuko na mitihani mingi katika maisha yake Maalim Seif Sharif Hamad imemalizikia leo kwenye kijiji chao cha Mtambwe alipozaliwa. Inna lillahi wainna ilayhi rajiuun.
In the name of Allah, The Entirely and The Most Merciful.
All praise be to Allah alone. We praise Him and seek His help; we seek his forgiveness and his guidance. We seek refuge in Allah from evil intentions, our evil deeds, and all evil beings. I pray that His peace be with you today and all days to come.
We are saddened to announce that what once was known as the House of Wonders is now no longer standing. On December 25th, 2020, the famous building collapsed while maintenance that was long overdue; was taking place.
The Sultan's Palace was built in 1883 by Sayyid Barghash; the third Sultan of Zanzibar. This building was more commonly known as Beit-al-Ajaib or the House of Wonders. It was given its name because it was the first building in the Island of Zanzibar to have electricity, and also the first building in East Africa to have an elevator. Inside were beautifully carved inscriptions from the Quran. There was so much history in the building; one of which, in front of the building once stood a light house that was destroyed during the Anglo-Zanzibar War in 1896. Also known as the shortest War in the world that lasted about 47 minutes. During the reconstruction, a piece of the tower was integrated into the facade of the building in 1897 with a clock at the top and a London Bell placed inside the heart of tower.
Over the years, people came and went, the weather changed, the children grew, the flowers blossomed, and the streets improved, but The Sultan's Palace remained; yet abandoned and forgotten. Turned into a museum for the tourists and a momentum for the locals, used on postcards and photographed for its uniqueness. Sad we are but reality is due to negligence the building could not bare standing another day. For the first time in years, when the hammers and the workers finally started maintaining the beautiful Beit-al-Ajaib; did it decide to tear itself down. Taking with it two souls that were stranded inside with four more who have been rescued and are now recovering quite well. Alhamdulillah.
May their souls rest in peace those who have gone back to their Creator, as we try to clear the streets, picking up all of the broken pieces. We watch the pieces of building lay and are reminded of its need to be loved and maintained. As time passes us by, we hope we can rebuild the lost memories of Beit-al-Ajaib. Standing again will be a dream come true for this piece of history deserves the worlds' view.
F. J. Al-salama
@muslichiyat
COVID-19 symptoms
Symptoms of COVID-19 can vary from person to person. They may also vary in different age groups.
Some of the more commonly reported symptoms include:
new or worsening cough
shortness of breath or difficulty breathing
temperature equal to or over 38°C
feeling feverish
chills
fatigue or weakness
muscle or body aches
new loss of smell or taste
headache
gastrointestinal symptoms (abdominal pain, diarrhea, vomiting)
feeling very unwell
Children tend to have abdominal symptoms and skin changes or rashes.
Symptoms may take up to 14 days to appear after exposure to COVID-19.
You can infect others even if you aren't showing symptoms
The virus can be spread to others from someone who's infected but not showing symptoms. This includes people who:
haven't yet developed symptoms (pre-symptomatic)
never develop symptoms (asymptomatic)
This kind of spread is known to happen among those who are in close contact or are in enclosed or crowded settings.
If you're travelling with or without symptoms, be aware of what's expected of you when entering Canada.
Everyone Should
Wash your hands often
Wash your hands often with soap and water for at least 20 seconds especially after you have been in a public place, or after blowing your nose, coughing, or sneezing.
It's especially important to wash:

Before eating or preparing food
Before touching your face
After using the restroom
After leaving a public place
After blowing your nose, coughing, or sneezing
After handling your mask
After changing a diaper
After caring for someone sick
After touching animals or pets

If soap and water are not readily available, use a hand sanitizer that contains at least 60% alcohol. Cover all surfaces of your hands and rub them together until they feel dry.
Avoid touching your eyes, nose, and mouth with unwashed hands.
people arrows light icon
Avoid close contact
Inside your home: Avoid close contact with people who are sick.

If possible, maintain 6 feet between the person who is sick and other household members.

Outside your home: Put 6 feet of distance between yourself and people who do not live in your household.

Remember that some people without symptoms may be able to spread virus.
Stay at least 6 feet (about 2 arms' length) from other people.
Keeping distance from others is especially important for people at higher risk.

Cover your mouth and nose with a mask when around others
Masks help prevent you from getting or spreading the virus.
You could spread COVID-19 to others even if you do not feel sick.
Everyone should wear a mask in public settings and when around people who don't live in your household, especially when other social distances measures are difficult to maintain.

Masks should not be placed on young children under age 2, anyone who has trouble breathing, or is unconscious, incapacitated or otherwise unable to remove the mask without assistance.

Do NOT use a mask meant for a healthcare worker. Currently, surgical masks and N95 respirators are critical supplies that should be reserved for healthcare workers and other first responders.
Continue to keep about 6 feet between yourself and others. The mask is not a substitute for social distancing.
box tissue light icon
Cover coughs and sneezes
Always cover your mouth and nose with a tissue when you cough or sneeze or use the inside of your elbow and do not spit.
Throw used tissues in the trash.
Immediately wash your hands with soap and water for at least 20 seconds. If soap and water are not readily available, clean your hands with a hand sanitizer that contains at least 60% alcohol.
Clean and disinfect
Clean AND disinfect daily. This includes tables, doorknobs, light switches, countertops, handles, desks, phones, keyboards, toilets, faucets, and sinks.
If surfaces are dirty, clean them. Use detergent or soap and water prior to disinfection.
Then, use a household disinfectant.
Monitor Your Health Daily
Be alert for symptoms. Watch for fever, cough, shortness of breath, or other symptoms of COVID-19.
Take your temperature if symptoms develop.

Don't take your temperature within 30 minutes of exercising or after taking medications that could lower your temperature, like acetaminophen.

Follow CDC guidance if symptoms develop.