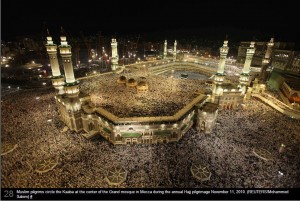 Hajj – Pilgrimage To Mecca
The fifth pillar of Islam is to make a pilgrimage (Hajj) to Mecca, in Saudi Arabia, at least once in one's lifetime. This pillar is obligatory for every Muslim, male or female, provided that he/she is physically and financially able to do so.
Prerequisites for performing the Hajj are to be a Muslim, to be free, to be an adult or mature enough, to be of sound mind, and to have the ability to afford the journey and maintain one's dependents back home for the duration. The reward for the Hajj is nothing less than Paradise.
The Hajj is the ultimate form of worship, as it involves the spirit of all the other rituals and demands of the believer great sacrifice. On this unique occasion, nearly two million Muslims from all over the globe meet one another in a given year. Regardless of the season, pilgrims wear special clothes (Ihram) – two, very simple, unsown white garments – which strips away all distinctions of wealth, status, class and culture; all stand together and equal before Allah (God).
The rites of Hajj, which go back to the time of Prophet Abraham who built the Ka'bah, are observed over five or six days, beginning on the eighth day of the last month of the year, named Dhul-Hijjah (pilgrimage). These rites include circumambulating the Ka'bah (Tawaf), and going between the mountains of Safa and Marwah, as Hajar (Abraham's wife) did during her search for water for her son Isma'il. Then the pilgrims stand together on the wide plain of Arafah and join in prayers for God's forgiveness, in what is often thought of as a preview of the Last Judgment. The pilgrims also cast stones at a stone pillar which represents Satan. The pilgrimage ends with a festival, called Eid Al-Adha, which is celebrated with prayers, the sacrifice of an animal, and the exchange of greetings and gifts in Muslim communities everywhere.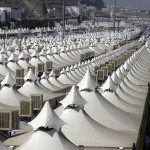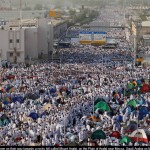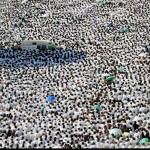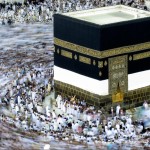 Ramadan and Eid ul-Fitr Announcement
Special Announcement
First day of Ramadan will be Wednesday, August 11, 2010
and Eid ul-Fitr on Friday, September 10, 2010, insha'Allah. 
"O you who believe, fasting is prescribed to you as it was prescribed
to those before you, that you may (learn) self-restraint." Qur'an 2:183 
The Fiqh Council of North America (FCNA) and the European Council for Fatwa and Research (ECFR) recognize astronomical calculation as an acceptable Shar'ia method for determining the beginning of lunar months including the months of Ramadan and Shawwal. The FCNA & ECFR use Makkah al-Mukarramah as a conventional point, and take the position that the conjunction must take place before sunset in Makkah and the moon must set after sunset in Makkah. 
On the basis of this method the dates of Ramadan and Eid ul-Fitr for the year 1431 AH are established as follows: 
1st of Ramadan will be on Wednesday, August 11, 2010
1st of Shawwal, which marks the start of Eid ul-Fitr, will be on Friday, September 10, 2010.
Ramadan 1431 AH:
The Astronomical New Moon is on August 10, 2010 (Tuesday) at 11:08 am Makkah Time. Sunset in Makkah on August 10 is at 6:55 pm. On that day, the Topocentric Altitude of the moon in Makkah at sunset is 1.6 degrees. Therefore, the first day of Ramadan is on August 11, 2010 (Wednesday), making the first Tarawih prayer to be on the night of Tuesday August 10, 2010. 
Eid ul-Fitr 1431 AH:
The Astronomical New Moon is on September 8, 2010 (Wednesday) at 6:30 pm Makkah Time. Sunset in Makkah on September 8 is at 6:31 pm. On that day, the moon in Makkah at sunset is below the horizon. Therefore, the first day of Shawwal, which marks the start of Eid ul-Fitr is on Friday, September 10, 2010, insha'Allah.
 
May Allah (swt) keep us on the right path, and accept our fasting and prayers. Ameen.  For more detailed information, please visit: www.fiqhcouncil.org or www.moonsighting.com
Ramadan and Eid ul-Fitr Announcement | ISNA.
Sincerely,
Dr. Muzammil Siddiqi
Chairman of the Fiqh Council of North America
 Mhehimiwa Hamad Rashid Muhammed matambezini nchini Canada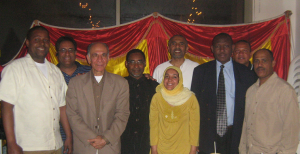 Msemaji Mkuu katika Bunge la Tanzania kambi ya Upinzani
Hon. Hamad Rashid Mohammed, Opposition leader in the Tanzania national Assembly
Alipokua Ottawa alipata nafasi kukutana na Speaker wa Bunge la Canada na badae alielekea Toronto  na kuapata fursa kukutana na wa Tanzania na wa Canada wenye asili ya Tanzania na kubadilishana fikra .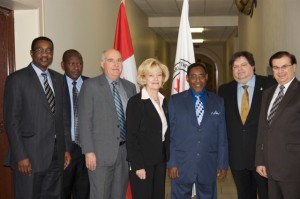 Inna Lillahi wa inna ilayhim raajiuun
We'll all miss Nesar Sherally " Joji!" With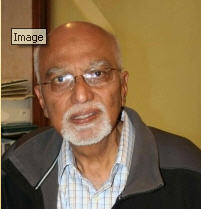 his passsing away a wealth of info on Zanzibar is lost since he was a living archive.
He has, for example, made the Majestic Cinema immortal by publication of his "Moto Moto – Majestic Cinema Is On Fire".
His knowledge of Kiswahili was also deep and wide – way back in the 70s when he was working with the East African Literature Bureau, he coined the expression "elimu ya ngumbaro" (= adult literacy) at a policy meeting which was chaired by Mwalim JK Nyerere. Mwalimu infact stood up and shook hands with him! Joji also taught Kiswahili at Fourah Bay College in Freetown (University of Sierra Leone, an affiliate of Univ of Durham), worked with the BBC, was a roaming Ambassador of the Khoja Ithnaasheri Jamaats of East Africa, etc.etc. Joji also participated in several of the Zanzibar International Film FestivalZIFF meetings and the seminars connected with them, in Zanzibar (ZIFF takes place from the last weekend in June to the first weekend in July.).
May Allah rest his Soul in peace.!!!
Moshi wa jenereta wauwa wanne
Kifo sha   Ahmed Shadadi  (Said)    Inna lillahi wainna ialhi rajiuun
WATU wanne wa familia mmoja wamefariki dunia baada ya kuvuta hewa inayosadikiwa kuwa na sumu iliyotokana na moshi wa jenereta katika eneo la Kibweni Bububu Nje kidogo na mji wa Zanzibar.

Ajali hiyo imetokea majira ya usiku mkubwa wa ijumaanne huku madirisha ya vioo ya nyumba inayomilikiwa na Ali Shamsi Salum yalikuwa yamefungwa na kusababisha hewa inayotokana na genereta lenye ukubwa wa KVA 4.1. kuingia ndani na kushindwa kutoka nje ya nyumba hiyo.
Naibu mkurugenzi wa makosa ya jinai Zanzibar, Mussa Ali Mussa alithibitisha kutokea ajali hiyo na kusema kwamba katika ndnai ya nyumba hiyo kulikuwa na watu sita lakini wanne alifariki na watu wanne ndio waliofariki watatu walifariki hapo hapo na mmoja wao alifariki baada ya kukimbizwa hospitali kuu ya Mnazi Mmoja.
Akiwataja walifariki dunia katika ajali hiyo Naibu Mkuruenzi huyo alisema ni pamoja na mama mwenye nyumba Safia Shaaban Shadadi (51) mgeni kutoka Canada kaka wa mama huyo Ahmed Shaaban Shadadi (48),  Anwar Saleh (26) na mfanyakazi wa nyumba hiyo Sikuzani Nassor (18).
Ahmed Shaaban Shadadi ambaye ni mgeni na alikuja visiwani Zanzibar kutoka nchini Canada alikuwa na mpango wa kusafiri na kurudi zake Canada siku ya Juamatano  huku mmiliki wa nyumba hiyo Ali Shamsi Salum alisalimika katika ajali hiyo kwa kuwa siku ya tukio alikuwa amelala katika nyumba yake ya pili kwa mke wake mwengine eneo la Michenzani Unguja.
Wengine walionusurika katika nyumba hiyo ni Sharifa Ramadhan Mohammed (35) na mtoto wake Nahad Ali Said (12) ambao wamekimbizwa katika hospitali ya mnazi mmoja kupata matibabu zaidi baada ya kupata mshituko wa kumeza hewa chafu iliyotokana na moshi huo wa jenereta la KVA 4.1.
Naibu mkurugenzi huyo amesema chanzo cha vifo hivyo kimetokana na kukosa hewa katika nyumba waliyokuwa wamelala wakati huo generetar likiwa likifanya kazi na kusababisha moshi wake kushindwa kutoka nje na watu hao kuvuta hewa ambayo ni mchanganyiko wa sumu ya carbon mono.
Alisema kwa muhibu wa taarifa kutoka kwa majirani wakati wanataka kuingia ndani kuwaokoa watu waliomo ndani ya nyumba hiyo walikuwa wakikohoa kutokana na hewa nzito sana ndani humo jambo ambalo hadi asubuhi polisi walipoingia walishuhudia hali ya hewa hiyo.
"Sisi tulipata taarifa kutoka kwa wananchi na baada ya kupata taarifa hizo tukafuatilia na ndipo tulipokwenda kufnaya ugaguzi na katika ukaguzi wetu wa awali tumeona sababu ya vifo vya watu hao ni moshi uliokuwa ndani uliosababishwa na jeneretor ambao haukuweza kutoka nje kwa kuwa madirisha yote ni ya vioo na yalikuwa yamefungwa kwa sababu sisi tulipoingia pia kulikuwa na hewa nzito sana" alisema naibu mkurugenzi huyo.
Haji Ali Haji ni miongoni mwa mashuhuda katika ajali hiyo ambaye amesema walisikia mtu mmoja akipiga mayowe na ndipo walipokwenda lakini baada ya kuingia ndani walikumbana na moshi mzito sana na kusababisha kukohoa lakini waliweza kufungua milango na kujaribu kuwaoka watu waliomo ndani bila ya mafanikio.
Alisema watu inaonesha moshi huo ulikuwa umeshaenea kwa kiwango kikubwa sana hivyo jambo la kwanza walijaribu kufungua madirisha na ili hewa hiyo itoke nje na kwenda nyumba kimoja kimoja ndipo walipowaona watu hao wamenyooka na wengine waliokuwa wamelala ukumbini wakiwa tayari wameshakufa.
Naibu mkurugenzi wa makosa ya jinai zanizbar alitoa wito kwa wananchi kutoweka majenereta ndani ya nyumba na kushauri iwapo wanaogopa wizi basi wajenereta hayo wajajengee vibanda kando za nyumba zao ili kunusuru ajali kama hizo zisitokezee tena.
Mussa aliwataka wananchi kuchukuwa hatua za tahadhari wakati wakiwa wamelala usiku na majenereta yanatakiwa kuwekwa sehemu mbali kwa ajili ya kuyapa nafasi ya kutoa moshi wake nje na usisambae ndani kwani huweza kusababisha ajali.
Hili sio tukio la kwanza tokea kuzimika kwa umeme desemba 10 mwaka jana matukio kadhaa yameripotiwa kutokea ya kuripuka kwa majenereta na kusababisha ajali ikiwemo kuunguza nyumba na vitu kadhaa.
Ajali ya Ndugu yetu Muhamed Ahmed Bahbesh
Hali yake inaendela vizuri na alifanyiwa Opereshen katika sehemu ya kiuno (pelvis).
The news taken from CBC website.
Emergency crews worked for about an hour to successfully rescue the driver of a semi-trailer that crashed on Winnipeg's Perimeter Highway early Sunday.
It took 45 minutes for fire and rescue crews to remove the driver from the cab of his truck, which collided with another semi-trailer near the intersection of McGillivray Boulevard and the Perimeter at 3:30 a.m. CT.
Slippery roads caused a number of other semi-trailers to jackknife and topple over.
Many people contacted CBC News to say roads outside the city were like skating rinks. A thick blanket of fog was also reducing visibility.
The driver was not seriously hurt, firefighter Terry Wiebe told CBC News. The driver of the other truck was injured, but there was no official word from RCMP about the extent of his wounds.
Tokeo Jingine
Mujtaba ameshatolewa Hospital na yupo kwake huko Richmondhill
Tuwaombee dua hawa wote na wengineo. Allah awepe shifaa Amin
 ANNUAL GENERAL MEETING
Wana Zancana mnajulishwa kuwa kutakua na General Meeting katika offisi zake hapo 1752B Victoria Park. Shime kila mwana chama hai kufika na alokua sihai atimize kulipa ada zake. Tarehe 26 june; Saa 4 asubuhi.
General meeting ni:
 kupitia yale yote yalopita nyuma
Maendeleo tulopata
Kuangalia kama tun hitaji kufanya uchaguzi mwengine
Kumudu Ofisi
Kama kunahitaji kubadilisha katiba.
Sabaha Muchacho aburudisha Toronto
Baada ya tangazo hilo tunatoa shukran kwa wote walo huduria katika hafla ya Sabahi alotumbuiza mjini Toronto.
Sabaha Muchacho aliwafurahisha wapenzi wa Tarrabu waliofika katika sherehe ya RAHATUL LAYL  (Usiku wa raha) mjini Toronto Canada.
Wapenzi wataraabu kutoka Toronto na vitongoji vyake walihudhuria hafla hiyo.
Wapenzi wakila aina kutoka Tanzania, Kenya, Uganda, Burundi , Somali na hata wenyeji wa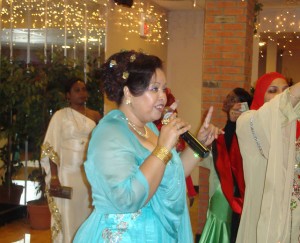 Canada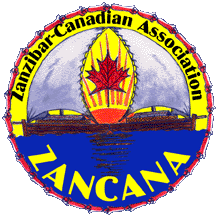 Zanzibar-Canadian Association (ZANCANA)
1752B Victoria Park Ave.
North York, ON, Canada M1R 1R4
Tel: (647)340-2005
E-mail: zancana@zancana.org
ZANCANA
Zanzibar-Canadian Association (ZANCANA, in short) is a community organization for people with Zanzibari origin presently living in Canada. Zanzibar is made up of two main islands (Unguja and Pemba) and several smaller ones off the coast of East Africa.
Welcome means KARIBU in the Swahili vernacular. Zanzibar is the majestic spice island of the East Africa in Indian Ocean.These are two main islands of Unguja and Pemba. Over centuries different cultures have influenced Zanzibar to become what it is today. Sumerians, Assyrians, Egyptians, Phonecians, Indians, Chinese, Persians, Portuguse, Omani Arabs, Dutch and British have settled here at one time or another and influenced the local culture into the present fusion